Iwaihime Matsuri
(祝姫 -祀-)
Trophy Guide
buy the VITA game here ->  
buy the PS4 game here ->  
Overview:
Estimated Trophy difficulty: 0/10

Time til Platinum: 30 MINUTES PS4

Time til Platinum: 30-45 MINUTES VITA
Trophies: 12 (1 11 0 0)
Online Trophies: none
Missable Trophies: none if you follow this guide
Glitched Trophies: none
STACKINGS:

yes!

PS4 and PS Vita Japan

Additional Equipment:

not needed, but a PS4 Turbo Pad can be used at PS4 version and a rubber band at PS-Vita version 😉
..
Controls:
/ – Skip (has to be hold)

Alternatively, you can activate skipping from the quick-menu by holding down and confirming with . Has not to be hold.

– Confirm / skip credits and videos
– Cancel
– inGame menu
..
Options:
Spoiler
..
..
Main Menu:
Spoiler
..
..
Start a new game.
Skip through the story.
NO CHOICES TO MAKE!
You have to hold
/
to skip. Sometimes the game will interrupt skipping. this times a chapter is done or a character's story is over. A video or credits will follow. Interrupt them by pressing
, and then skip the story again by holding the
/
button.
You will get the following (GOLD!) trophies

  呪姫

  幻姫

  歌姫

  痕姫

  鹿神姫
before you reach this picture:
Spoiler
Choose the left girl now and go on skipping. This picture will appear again twice. First time with two girls and then with one girl. Choose the middle girl first and the right girl at next time. (The order of choosing the three girls should not matter but this is how I did it.)
You will get the follow trophies til the end of the game:

  美濃部 鼎

  春宮 椿子

  布川 莉里杏

  黒神 十重
Now choose BONUS STORY at main menu (3rd option from top) and skip through it.
Again NO CHOICES TO MAKE!
you will get:

  祝姫

  結姫
And here you'll get your Platinum: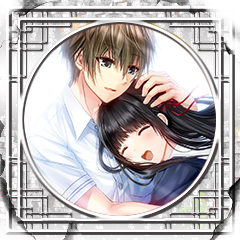 CONGRATS