Sweet Pool – スウィート プール – Trophy Guide
buy the game here ->
Overview:
Estimated Trophy difficulty: 1/10

Time til Platinum: 8

MINUTES

with SCENE JUMP
Trophies: 12 (1 11 0 0)
Online Tro phies: none
Missable Trophies: none if you follow this guide
Glitched Trophies: none
Controls:
– Skip
– Confirm
– inGame menu
– cancel /skip videos
– opens menu for scene skip, forward, backward, Quick Save, Quick Load and so on
= Quick Save/skip videos
= Quick Load
Options:
Spoiler
Hints:
For a faster plat time you can use the scene skip function! To use it press and then and confirm with the right option ("YES").

Spoiler

You can use

scene skip

from beginning on without missing anything! But after the last effect in each route you will have to use "normal Skip" for a few seconds.
Videos can be skipped with or . First end video can't be skipped.
Always choose "Yes" twice after an end to save sytem/progress data.
Menus are in English.
In this game you will have to make different choices as in other visual novels. You will have to choose red or blue effects.
Like this:


Spoiler


Choose the correct effect via touchscreen.
Start a new game
blue effect
2x red effect
blue effect
6x red effect
blue effect
SAVE 1
3x blue effect
SAVE 2
8x red effect
SAVE 3
red effect
You can not use scene skip at the end (won't be mentioned again).
哲雄END1

  睦 END
LOAD SAVE 2
4x blue effect
SAVE 4
red effect
4x blue effect
SAVE 5
blue effect
哲雄END2

  哲雄 END2
LOAD SAVE 3
blue effect
哲雄END3

  哲雄 END3
LOAD SAVE 4
blue effect
睦END

  睦 END
LOAD SAVE 1
red effect
善弥END

  善弥 END
LOAD SAVE 5
2x blue effect
I'm in blue

  I'm in blue


  Miracles may
Go back to main menu and choose EXTRA.

  CONGRATULATIONS
Go back to main menu again – choose EXTRA again and then  CG LIBRARY.

  CGコンプリート
Choose RECOLLECTION LIBRARY.

  RECOLLECTIONコンプリート
Choose MEDIA LIBRARY.

  SONGコンプリート
And here you will get your new PLATINUM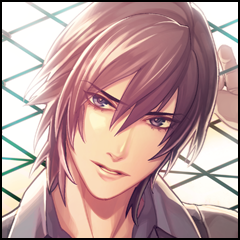 CONGRATS